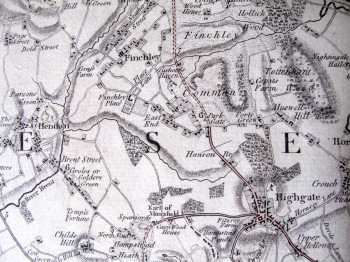 Extract from original map - click to enlarge
William Faden's map 'The Country Twenty Five miles round London planned from a scale of one mile to an inch' gives us an idea of the landscape close to the metropolis in the last third of the 18th century. It shows the extensive commons, downs and heaths which were soon to disappear with Parliamentary Enclosure as well as the estates of the landed gentry who wanted to enjoy the countryside but who also wished to live close to the capital.
Faden came to dominate the publication of newly surveyed county maps but this map, published first in 1788, is not from a new survey; it is an amalgam of existing county maps surveyed from the mid 1760's onwards.
This digital redrawing (very similar to William Faden's 1797 map of Norfolk, Dury & Andrews 1766 Map of Hertfordshire and Hodskinson's map of Suffolk, 1783) is taken from the third imprint published in 1790.
In 1801 the map was copied and re-engraved by the French War Department in preparation for an invasion of England.